Okay, so maybe these days grads shouldn't be expecting a new car as a graduation gift the way they did a few decades ago. But if you're looking for a great gift for a grad who loves cars, or one to help them find their way back home, here are some graduation gift ideas.

Time to Graduate
This Auto Timing Chain Wall Clock is a cool design that any grad will love. It's great for their new dorm room, or their new office (or cubicle!). This clock from www.uncommongoods.com is available online for $125.
The artist, Steven Shaver, was inspired by domestic car parts found in salvage yards and calls his work "part art."
Uncommon Goods also has a great desk clock made by Steven Shaver from reclaimed engine timing gears.
These beauties are handmade in California, and he individually signs the back of each finished clock.
Shifting into Neckware
If your grad is worried about donning boring ties for their new job or internship, give them a graduation gift that makes a statement: a gear shift tie! There's nothing dull about this necktie, available for $40. It's handscreened in Detroit, Michigan.
Peace of Mind on the Road
For just $87, you can get your grad peace of mind on the road. (Let's face it, though, it's a gift for the grad's parents as well!) Order a AAA membership online for a thoughtful, easy gift solution for your grad.
Starter Tools for the "Mechanic"
This Craftsman 94 pc. mechanics tool set includes pretty much every tool your grad would want if they're a car enthusiast who likes to tinker. It has 52 sockets, 22 driver bits, 14 hex keys, 2 quick release ratchets and 2 wrenches. What more could they need? It's around $60 at www.craftsman.com.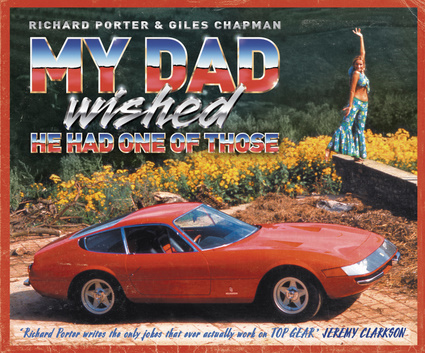 A Bit of Automotive History
This book covers great cars from the '50s through the '80s for your car history buff. The Aston DBS V-8, the Jag XKSS, the Renault 5 Turbo and even the author's Ford Pinto are displayed in this fun drive down memory lane.  About $20 from www.ipgbook.com.
Or get your graduating car racing enthusiast Portraits, by Jesse Alexander.
It's an intimate and emotional view of the people he has met over a 50-year career as a motorsports photographer.
Great shots of Phil Hill, Stirling Moss, Jack Brabham, Mario Andretti, Dan Gurney, John Surtees, Enzo Ferrari, Bruce McLaren, Peter Revson, and Carroll Shelby. It's about $75, from Car and Driver's online shop.
Car-Themed Jewelry
Check out Brian Bergeron Designs' tire rings if you need a unique gift for a graduating car nut.
These artful treads start at around $150 and can be ordered in silver, white or yellow gold, palladium, and platinum. Get it engraved with their graduation date, maybe?
Power for their Travels
The Spark Plug 2 from BlueFlame is for the grad on the go.
It charges up to two devices in the car by converting the 12 volt DC socket into a universal USB charging station.   It includes a 30-pin to USB cable for certain iOS devices, and costs around $40 from BlueFlame Gear.
Steer 'em Right after Graduation
This cool key chain gives your graduate a reminder: they're in charge of steering their own course after graduation! The key chain's vintage-style wheel is constructed from three spokes of etched stainless steel and a plastic injected rim textured with a wood-grain finish accented by rivets, just like they were back in the 1950s and '60s. It sells for around $30 online.